Good evening all! I just wanted to let you know that we have new badges available for you, designed by our lovely Samantha, who asked all of the DT to choose their favourite card and used them for the new badges! Here is the result, and feel free to grab it to display it on your blogs if you want to!
I also wanted to let you know that
Dustin Pike
himself is kindly sponsoring us next week and has created an image just for
ABC Christmas
, which you will get to see for our B Challenge starting on the 19th... but here is a sneak peek...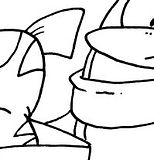 So I hope you will visit us next Wednesday, but in the meantime, you can still enter our A is for Anything Christmas Challenge! Thanks for your visit!
Hugs,
Delphine xx
Bonsoir! Un petit message pour vous montrer le tout nouveau badge d'ABC Christmas que vous pouvez ajouter à vos blogs si vous le souhaitez et vous donner un petit aperçu de ce qui vous attend...
Dustin Pike
lui-même a accepté de sponsoriser ABC Christmas la semaine prochaine et a même créé une image rien que pour nous! Vous pourrez tout découvrir mercredi prochain! En attendant, notre challenge "A pour Anything/ Tout convient tant qu'il s'agit de Noël" continue!
Bonne soirée et à bientôt,
Delphine